A celebration of BAA award artists
Tomm Moore
{"autoplay":"true","autoplay_speed":"5000","speed":"300","arrows":"true","dots":"true","rtl":"false"}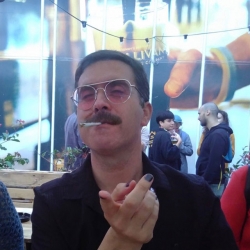 Partner & Creative Director of Cartoon Saloon. ACADEMY AWARD® Nominated Director.  
Over the company's history, Tomm has worked as Director, Art Director, Storyboarder, Animator and Illustrator on a range of projects from commercials to service work for feature films and TV series, as well as a number of short film projects.
Tomm has directed 2 universally successful feature films. Both were nominated for Best Animated Feature at the Academy Awards® The Secret Of Kells in 2010 and the spiritual follow-up, Song of the Sea in 2015.
Tomm also co-directed the "On Love" segment for The Prophet, a feature animation produced by Salma Hayek based on one of the best-selling books of all times. 
Tomm is currently co-directing with Ross Stewart Cartoon Saloon's next feature film project "WolfWalkers".
Tomm Moore received the Directors Guild Of Ireland and America Finder's Series Award in 2008 and European Director of the year at Cartoon Movie in 2009.
What is your favourite British animation of all time?
I think I'd have to say Dick Williams' unfinished masterpiece 'The Thief and the Cobbler'.
What's the best thing about working in the industry?
Collaborating with so many talented artists from all over the world.
Provide a quirky quote or comment
Baa humdinger
Share this post