A celebration of BAA award artists
Simon Tofield
{"autoplay":"true","autoplay_speed":"5000","speed":"300","arrows":"true","dots":"true","rtl":"false"}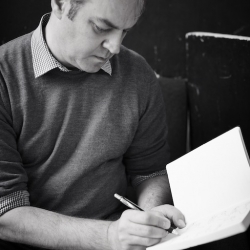 (photo:© David Loftus)
Simon Tofield is an English animator who lives with his five cats.
His passion for drawing started young. He learned to animate by creating flipbooks featuring characters and stories from his imagination.
Simon's most well-known creation is Simon's Cat, an online animated series that has amassed over 1 billion views on YouTube alone.
Besides cats and animation, Simon's greatest interests are British wildlife and the great outdoors.
What is your favourite British animation of all time?
My favourite British animation of all time has to be Cosgrove Hall's 'The wind in the Willows'. I am a really into my wildlife and even back in the eighties I was amazed they had sculpted all the different sorts of rodents. The shrews, wood mice and voles were all there and with different characters, I thought this attention to detail was amazing. Something I try to emulate in my own work.
What's the best thing about working in the industry?
The best thing I enjoy most about the animation industry is working with a good team. Bringing together lots of people with different talents and skills into one room and watching the creative process take shape is a real joy. It's never too late to learn new tricks, not even for this old sheep dog.
Provide a quirky quote or comment
The strength of the sheep is the flock and the strength of the flock is the sheep.
Share this post