A celebration of BAA award artists
Pedro Serrazina
{"autoplay":"true","autoplay_speed":"5000","speed":"300","arrows":"true","dots":"true","rtl":"false"}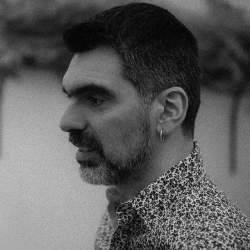 Pedro Serrazina is an award winning director, senior lecturer and animation researcher. His work ranges from short films and international site-specific installations, to music videos, workshops and academic projects. Serrazina is interested in the interconnections between architecture, public space and animation. He completed his MA degree at the Royal College of Art, London, and a practice-based PhD, on "The creation and use of animated space as tool to reflect on social space", at Universidade Lusófona, Lisbon, where he is senior lecturer in the BA and MA animation courses. His projects and work have been exhibited internationally (Tunisia, São Paulo, USA, Montreal, Lisbon…), a recent highlight being a UN commission to work with Tunisian communities on the theme of local empowerment. A member of the Society for Animation Studies, Serrazina hosted the annual SAS 2019 conference, in Lisbon, and is currently preparing his next short documentary film, What remains of us.
What is your favourite British animation of all time?
A very difficult question. And I can't choose just one, sorry.
Right now, the ones that pop into my head are:
Park's The Wrong Trousers, Hunt's Ah Pook is Here, David Anderson's Door, the Quays' Unnameable Little Broom
Please ask me again tomorrow, I may come up with a few more favourites. 
What's the best thing about working in the industry?
The daily realization of actually doing something I love.
Provide a quirky quote or comment
In a time of many big bad wolves, the sheep should stand together
Share this post