A celebration of BAA award artists
Hugh Turvey
{"autoplay":"true","autoplay_speed":"5000","speed":"300","arrows":"true","dots":"true","rtl":"false"}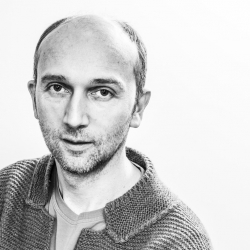 Hugh Turvey is an artist with an international reputation. His Xogram work is held in public and private collections throughout the world. Bridging the gap between art and science, graphic design and pure photography, it has been utilised in a myriad applications, including, commercially, for marketing and advertising, in TV and film and by architects and interior designers. Along with developing a body of work for the Science Photo Library, his Xogram work has also been widely featured in newspaper articles and magazines around the world.
Among his commercial projects, he has made six award-winning TV adverts, using ground breaking Motion X-Ray. For the past three years he has been working with Waitrose UK on celebrity chef Heston Blumenthal's ranges and has had images commissioned by L'Oreal, Paris.
Hugh's Xogram work has starred in 2011 French feature film Et Soudain, Tout Le Monde Me Manque and his Flora xograms were selected as a key motif to run throughout the newly refurbished Maslow Hotel in Johannesburg.
What is your favourite British animation of all time?
Grew up with Tony Hart and Morph
What's the best thing about working in the industry?
Working with x-ray is very revealing – the ultimate onion skinning
Provide a quirky quote or comment
Crowd psychology makes us flock, but sheep sometimes can be wolves.
Share this post