A celebration of BAA award artists
Dino Athanassiou
{"autoplay":"true","autoplay_speed":"5000","speed":"300","arrows":"true","dots":"true","rtl":"false"}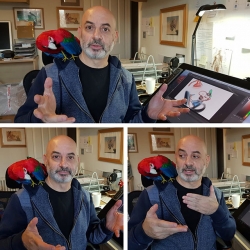 Dino Athanassiou is an Animation Director in the classic Hollywood tradition of "rich character performance", both traditionally and computer animated.  Dino has built a reputation for creating world-class designs, storyboarding, and theatrical animation for the US majors. His work includes sequence direction, animation and storyboards for DreamWorks, as well as Warner Bros, Paramount and Disney's in both animation and live action movies  such as Disney / Jerry Bruckheimer's live action blockbusters Prince of Persia , Sorcerer's Apprentice .  In 2011 Dino completed directing the CG Animation on Lionsgate's Hunger Games. supervising two of the main climatic sequences in the film.
Dino was also responsible for completing the episodic direction on 56 x 11 shows on the 2nd season of award-winning CGI series Peter Rabbit, for which he was nominated for an EMMY Award two years in a row for outstanding direction in an animated tv series.  Dino and his Co-Director Simon Ward Horner won a BAA for for the hit animated television series, The Legends of Treasure Island – children tv series in 1996.
The latest project's Dino has worked on have been Disney's Aladdin (Dir. Guy Ritchie) where Dino was the creator and story artist on the "Friend Like Me", sequence. As well as boarding on Disney's up and coming blockbuster Artemis Fowl, and is now working for Warner's on their big Hybrid Live action movie "Tom and Jerry".
What is your favourite British animation of all time?
Well, I would have to say "The Last Belle" By Neil Boyle. An amazing and funny piece of film making and animation! 
What's the best thing about working in the industry?
For me, it's the fact that we get to draw and create for a living! And many of the creatives artists in this business happen to be very close friends as well! 
Provide a quirky quote or comment
Baaaaaaaaaaaaaa-Humbug! to that question! :-))
Share this post