A celebration of BAA award artists
Andrew Kötting
{"autoplay":"true","autoplay_speed":"5000","speed":"300","arrows":"true","dots":"true","rtl":"false"}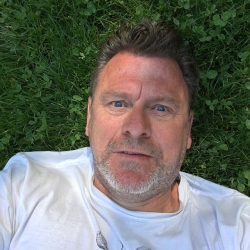 Andrew Kötting is an award winning artist, filmmaker and Professor of Time Based Media at UCA in Canterbury. After leaving school he worked as a scrap metal dealer and then a failed lumberjack in Scandinavia before returning to college to study Fine Art, graduating from The Slade in London. He has made over a hundred short films, which were awarded prizes at international film festivals before making his idiosyncratic first feature film Gallivant (1996) with his grandmother Gladys and daughter Eden. His most recent feature film Lek And The Dogs was released by HOME in the UK and Ireland in summer 2018. He currently lives and works between Hastings on the south coast of England and Fougax-et-Barrineuf in the French Pyrenees.
What is your favourite British animation of all time?
"RABBIT" by Run Wrake or "WHO I AM AND WHAT I WANT" by Chris Shepherd & David Shrigley.
What's the best thing about working in the industry?
Not working within the industry.
Provide a quirky quote or comment
NOT ONLY DO WE STILL EAT THE OFFAL OF THE ANCIENT WORLD; WE ARE POSITIVELY SMUG ABOUT IT
Share this post