A celebration of BAA award artists
Philip Hunt
{"autoplay":"true","autoplay_speed":"5000","speed":"300","arrows":"true","dots":"true","rtl":"false"}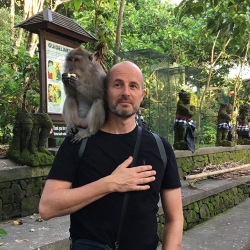 Philip is a partner at STUDIO AKA, a multi-BAFTA & Emmy winning, animation studio based in London. An Alumni of both Central St. Martins & The Royal College of Art, Philip's 30 year career spans countless commissioned works, along with the multi-award winning short film adaptation of William S. Burroughs AH POOK IS HERE; and the BAFTA-winning children's film LOST AND FOUND. Philip sits on advisory boards for the NFTS, Escape Studios and FMX; and teaches at the Filmakademie Animation Institute and Pictoplasma Academy. He is currently in production on a new film due in early 2020.
What is your favourite British animation of all time?
It's a tie between FATHER AND DAUGHTER by Michaël Dudok de Wit and DOG by Suzie Templeton. I can't even.
What's the best thing about working in the industry?
Aside from not ever having to get a real job, I am thankful that at least once a day I get to marvel at the talent of one of the artists who I work alongside. The industry can put you through a grinder at times, but what comes out of adversity is often the most astonishing craft and artistry.
Provide a quirky quote or comment
For the 1996 awards, I crafted a model sheep out of one extremely long and unruly piece of wire by wrapping it over and around itself into the shape of, well, a sheep. I was quite pleased with myself and my artiness and photographed its shadow in a suitably moody black and white shot to create the award. When it was thrown up on the screen during the ceremony, I was congratulating myself when the late, great, Jeremy Hardy – who was hosting – mercilessly skewered me by declaring that it looked like … a ball of shower pubes. . (Thanks, Jeremy!)
Share this post