A celebration of BAA award artists
Paul Galloway
{"autoplay":"true","autoplay_speed":"5000","speed":"300","arrows":"true","dots":"true","rtl":"false"}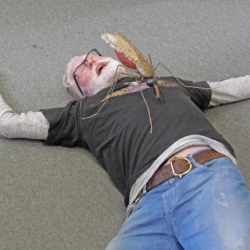 Having spent my childhood in our shed in Liverpool making shizzle, I seamlessly moved on to a carpentry and Joinery apprenticeship and made things out of wood instead.
Four years later and all my fingers still intact, the urge to develop my creative skills became overwhelming and I took my Northern soul over to Wigan for a 2-year diploma in Graphic design.
With this combination of creative skills, the obvious move was Bristol and a life piracy, I mean a degree in 3D design and a life in the world of film, TV and animation as a designer/art director/pirate captain.
What is your favourite British animation of all time?
I think Terry Gilliam's Monty Python animation is the landmark animation for me, the first time I understood the craft of animation a saw something that wasn't the other worldliness of Disney.
What's the best thing about working in the industry?
The best thing about being in and around the world of animation in Bristol has been the quirky maverick characters that the industry has attracted over the years.  They're definitely the kind of people I am drawn to, some have been life-long friends and some have died of their wounds.
Provide a quirky quote or comment
I was involved with animation throughout the 90's which was topped off by my trip to the BAA's in 2000, presented by the wonderful Jeremy Hardy, followed by a punch-up in the bar, between a young Turk and an old Turk, which seemed to sum up the passion in the animation industry at the time.
Share this post