A celebration of BAA award artists
Iain Gardner
{"autoplay":"true","autoplay_speed":"5000","speed":"300","arrows":"true","dots":"true","rtl":"false"}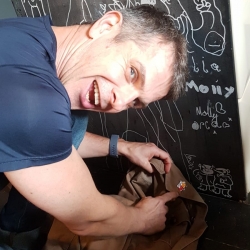 Iain Gardner grew up in 1970s Glasgow, when people would have heard the word 'animator' and thought that person laminated things. His life changed at the 1989 Bristol Animation Festival whilst still a student, and he found himself apprenticing on Richard Williams' THE THIEF AND THE COBBLER. During Claire Kitson's Channel 4 reign he directed AKBAR'S CHEETAH and an Animated CANTERBURY TALES for the BBC. In this Century he was Artistic Director for the Centenary of Scots born animation pioneer Norman McLaren, presided over the McLaren Award at Edinburgh International Film Festival for ten years and now wants a dog. 
What is your favourite British animation of all time?
This is such a tricky question, as I programmed the McLaren Award for Best British Animation at the Edinburgh International Film Festival for ten years and loved so many films from the likes of Peter Millard, Daisy Jacobs, Will Anderson/Ainslie Henderson, Lizzy Hobbs, Ross Hogg, Joanna Quinn and many more. But I'll go for Mark Baker's THE HILL FARM as it was one of those animations I saw early in my career which influenced the sort of films I'd like to make. 
What's the best thing about working in the industry?
The camaraderie and generosity of our peers – we're really lucky in the animation world that people don't appear to be as protectionist as you hear in other industries and there's such willingness to champion other people's ideas and share knowledge. 
Provide a quirky quote or comment
Jeez. I can't think of any words of wisdom of my own – I always remember Richard Williams telling his crew 'if it's on ones it flies' which kinda made me miss out on the expediency of threes for a long time. 
Share this post