A celebration of BAA award artists
Christian Hogue
{"autoplay":"true","autoplay_speed":"5000","speed":"300","arrows":"true","dots":"true","rtl":"false"}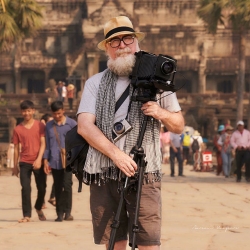 Christian Hogue is a pioneering Digital Artist/Director specializing in bleeding edge digital moving image work across many media.
Christian Hogue has worked in the VFX/Digital Animation industry since 1984 on feature film and television commercials visual effects such as Terminator 2, Judge Dread, Lost in Space, and several BOND films. 
Christian's studio lost in space has created groundbreaking imagery for BIG and DAZED magazine and the iconic cover of COLDPLAY'S "Rush of Blood to the Head"; print work for WIRED magazine, The New York Times, music videos for Autechre, Roni Size, Seal, Mr Children, and Maki Hara;  Album cover imagery for MUSE, SIMPLY RED and ROGER SANCHEZ and concert visuals for the Rolling Stones, Bjork, Robbie Williams and Metallica. 
His studio Lost in Space was one of the first studios to contribute experimental 3d computer generated films to the London based Onedotzero festivals with films such as Titania and 3space, and for tv series such as mixmasters and international festivals like DOTMOV. 
Christians continue involvement in leading digital technologies has seen many artistic collaborations and his own works been shown around the world. Using his VFX and computer graphics background he often combines this with his love of photography. 
This had lead to his successful Anomalies group show at Bridge Art Space in Jan 2015. His creative work then involved a series of workshops on historical photographic printing techniques at Maine Media in the USA focusing on sun exposure of classic  techniques such as cyanotype, albumen and gum bichromate as well as an introduction to wet plate collodion photography on large format cameras.
establishing a historical process darkroom to further his experiments in blending the modern with the traditional. 
His travel and street photography has been featured in Conde Nast Traveller and other international magazines. While his fine Digital Art and Photography has had several exhibitions. 
What is your favourite British animation of all time?
Actually its got to be a Monty Python's "THE HOLY GRAIL" all of Terry Gilliam's animation is amazing and was groundbreaking at the time, still good!
What's the best thing about working in the industry?
meeting all your childhood idols!
Provide a quirky quote or comment
"Well I'll be Buggahd! BAAAAAAAA"
Share this post