**British Animation Awards 2022 – Nominations**
Posted on 10th February 2022
Here are the nominations for the BAAs 2022. Book the date of Thursday 10th March to find out the winners. Good luck to all.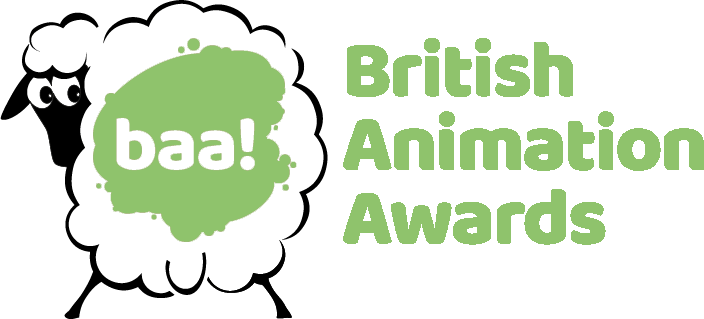 BAA 2022 NOMINATIONS
Best Design
---
Ron's Gone Wrong
Aurélien Predal, Nathan Crowley, Till Nowak
Jingle Jangle – A Christmas Journey
Ian Spendloff
Raised by Wolves
Steve Small
Circle Square – Junglehouse
Greg McLeod
Best Use of Sound
---
Elliot from Earth – Wednesday pt2
Mic Graves, Tony Hull, Rhys Byfield, Mikey Please
Hilda – The Deerfox
Andy Coyle
The Rubbish World of Dave Spud – Burning Wheels
Ed Foster
Zog and the Flying Doctors
Adrian Rhodes
Pip And Posy – Swapsies
Jason Heath
Best Factual
---
Save Ralph
Spencer Susser
Timeline
Osbert Parker
Best Voice Performance
---
Save Ralph – Taika Waititi, Ricky Gervais
Spencer Susser
Affairs of the Art – Menna Trussler
Joanna Quinn
The Adventures of Paddington – Ben Whishaw
Jez Hall, Chris Drew
Hilda – Bella Ramsay
Andy Coyle
Moominvalley – Bel Powley
Steve Box
Best Under-Graduate Film
---
To be a Goat
Milda Kargaudaite
True Colours
Hanna Lea Wyttenbach
Case closed
Lucy Gatenby
@Scroll Alice
Céline Ufenast
Suburb
Miles Jezuita
Writers Award
---
Myles McLeod for Circle Square – Pizza Mystery
Greg McLeod
Les Mills for Affairs of the Art
Joanna Quinn
Peter Baynham and Sarah Smith for Ron's Gone Wrong
Jean- Philippe Vine, Sarah Smith, Octavio E Rodriguez
Madeleine Brettingham for The Rubbish World of Dave Spud – Twinfestation
Edward Foster
Mark Burton and Giles Pilbrow for Shaun the Sheep – The Flight Before Christmas
Steve Cox
Best Post Graduate Film
---
O Black Hole!
Renee Zhan
Other Half
Lina Kalcheva
Eating In The Dark
Inari Sirola
Lamb Award
---
Sanna Räsänen
Nominated by One6th
Teifi Cadwallader
Nominated by Cloth Cat
Lisa-Mae Evans
Nominated by Blue Zoo Animation
Emilie Brown
Nominated by Blue-Zoo Animation
Hodan Abdi
Nominated by Illuminated Films
Best Children's Pre-School Series
---
Hey Duggee
Grant Orchard, Sander Jones
The Adventures of Paddington
Jez Hall, Chris Drew
Circle Square
Greg Mcleod
Milo
Chris Capstick
Pip and Posy
Jeroen Jaspaert and Matt Tea
Best Children's Series
---
The Brilliant World of Tom Gates
George Sawyer
Milo
Chris Capstick
Hilda – The Deerfox
Andy Coyle
Cutting Edge
---
Save Ralph
Spencer Susser
Sub-Surface
Alex Robinson
Dead Pixels S2
Jamie Jay Johnson, Asa Movshovitz
Best Music Video
---
Rocket Freudental – Der Stuhlkreis
Ged Haney
Mama Jerk and the Ladyfingers – Mountain
Harrison Fleming
Foo Fighters – Chasing Birds
Emlyn Davies, Josh Hicks
Christy Moore – The Voyage
Jessica Patterson
Jamie Cullum – Age of Anxiety
Neil Pymer
Wildcard
---
Timeline
Osbert Parker
Boris Johnson Eats A Pot Noodle In The Bath
Ross Butter
Strange
Cameron Carr
Squib – When All of This is Over
Baz Sells
Hench Girl Summer
Beatriz Antunes
Best Immersive Animation
---
Peace of Mind
Ben Steer
The Beast
Grant Berry, Dane Winn
Madrid Noir
James A Castillo
Best Original Music
---
Sol
Music by: Michael Keeney and Kris Stronge, Directed by: Gráinne Mc Guinness
I Am Odd
Composer: Benjamin Giroux, Mike Connaris
Robin Robin
Composer: Ben Please and Beth Porter
Edgar's Christmas
Music Composer: Mike MacLennan
Love Monster – Super Sound Day
Theme music: Jeremy Warmsley
Score Composed by: Esther Joy Lane
Score Composed by: Hannah Charman
Best Animation In Commercial
---
The Girl Who Built a Rocket
Neeraja Raj
Airwick – Breath of Nature
Peter Szewczyk
Save Ralph
Spencer Susser
Moto GP Returns
Anton Alfimenko
Social Good
---
Typically
Anna Ginsburg, Caitlin McCarthy
Diabetes Symptoms
Angie Phillips, Phoebe Halstead
Up River – a Shadventure on the River Severn
Tom Stubbs
You Being You
Kong Studio
Sinking Feeling
Mark Spokes
Best Longform
---
Sesame Street's – The Monster At The End of the Story
Mark Taylor
Ron's Gone Wrong
Jean- Philippe Vine, Sarah Smith, Octavio E Rodriguez
Shaun the Sheep – The Flight Before Christmas
Steve Cox
Best Short Film
---
FlattenTheCurve#1
Studio Desk, Kathrin Steinbacher, Emily Downe
Meow or Never
Neeraja Raj
Save Ralph
Spencer Susser
Black Slide
Uri Lotan
Affairs of the Art
Joanna Quinn